XTZ was a brand name that I had little knowledge of, except a European Audio/Visual manufacturer, due to lack of distribution channels here in Hong Kong, until a recent visit to one of our member's home. This member equipped his home with 11.1.4 home theater system, with all XTZ speakers except for the subwoofer. After a demo at his place, I was amazed and shocked by the performance produced by these speakers. The brand name, XTZ, was only then turned my eyes. At the time, I was also planning to upgrade my home theater system to a Dolby Atmos system, by adding ceiling speakers and upgrading rear channel speakers. This visit helped me to frame my purchase decision.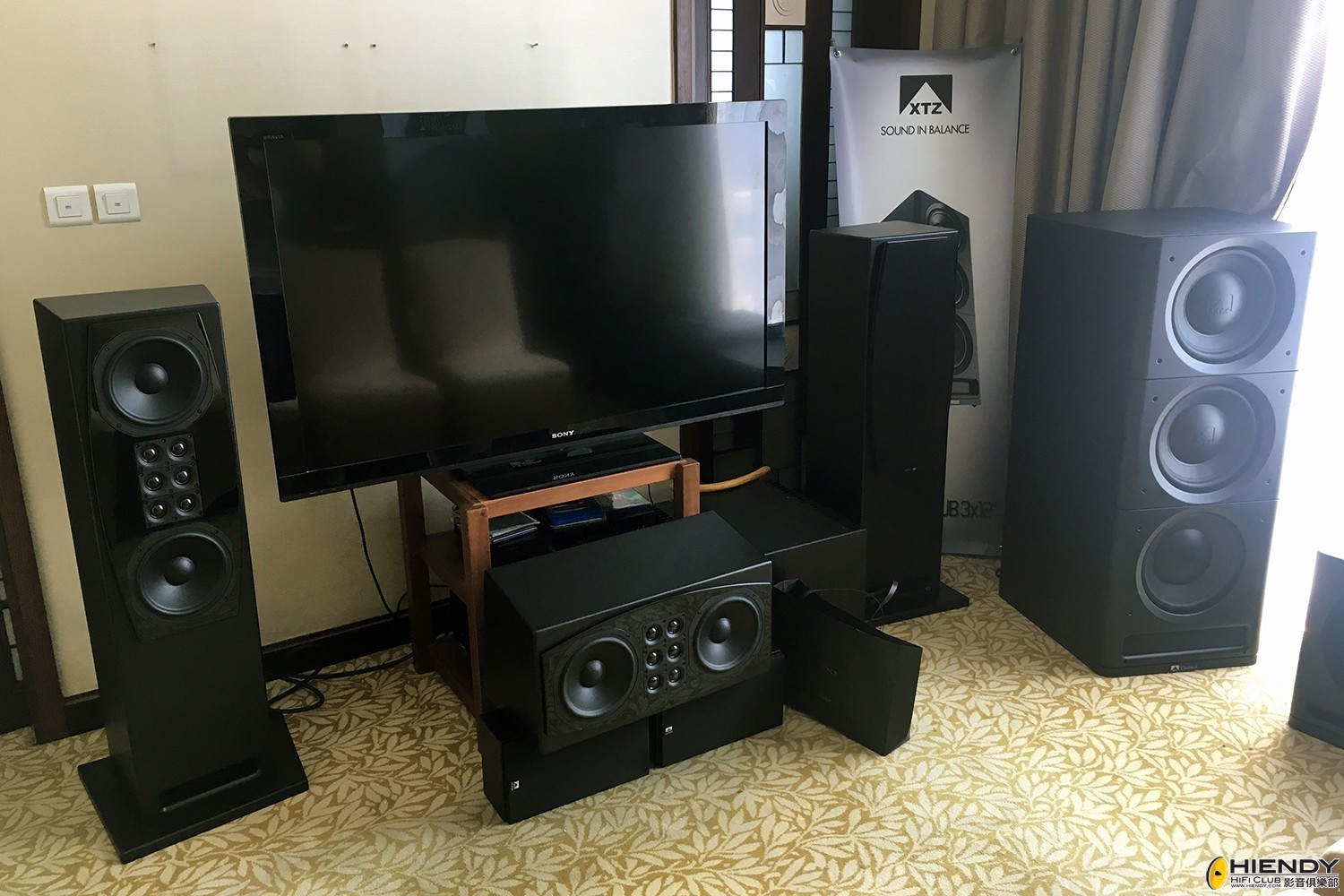 The Guangzhou International Audio Recording Exhibition held at Oriental Hotel is one of few exhibitions where I would play a visit every year. Since XTZ was also one of the exhibitors at this year's exhibition, I wouldn't give up a chance to visit their booth in the show. At XTZ's booth, the one thing that really caught my eye was the gigantic Cinema SUB 3×12 subwoofer! It must be one of the subwoofers that everyone wants to take home, but hesitated due to its size. I was lucky enough to run into the founder of XTZ, Mr. Olle Eliasson, during my brief visit. Therefore, I took the chance and asked Mr. Olle Eliasson for a quick interview, and to learn about the design philosophy behind his brands, which he summarized as "Natural Sound and Personal Preference". This is the basis of his design philosophy for XTZ since the company established in 2004. With "Natural Sound" as starting point, and adjustable vocal effects featured in the products, Olle hopes to tune the music and sound to cater for different personal preferences and taste of music.
At the end of interview, I asked Olle if I can borrow one of the subwoofer for review, and he allowed me to choose from the range of 6 subwoofer models. In order to experience his design philosophy "Natural Sound, Personal Preference", I decided to borrow the Cinema SUB 1×12 for testing and review. A few weeks later, a giant box showed up at my door step. The Cinema SUB 1×12, although not considered to be monstrous in weight, but it still weights at 63.9 lbs. It was a bit challenging to take it out of the box all by myself. A first glance, the SUB 1×12 is in a shape of trapezoid and measured at 20.0 x 18.5 x 18.7″(W x H x D) in size. It is covered with special anti-reflective black paint, therefore, perfect for a home theater environment, especially one equipped with projector and required minimal of light reflection. In the power department, the SUB 1×12 has a Class D amplifier in a rather small foot print 3 x 1.5 x 5″ (W x H x D), but rated at 500W @ RMS  and 900W @ peak power. It seems that SUB 1X12 is built for solid good bass!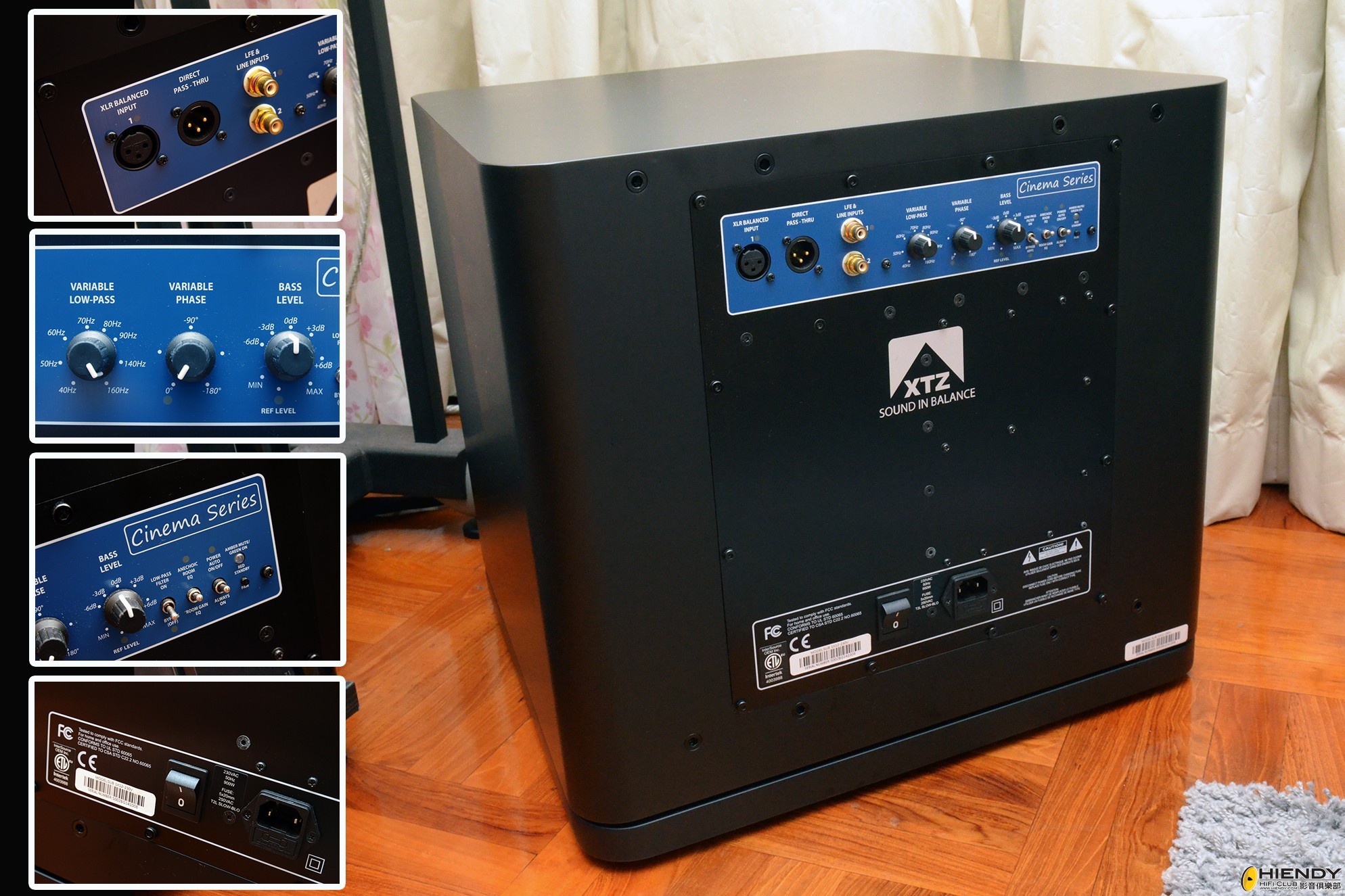 SUB 1×12 equips with a High-Speed Ultra-Long-Stroke 12" driver for fast and dynamic bass, and THX certified. Both Balance XLR and RCA inputs are available. Various configurations, including Variable Low-pass, Variable Phase, and Base Level, etc., are available for user to tune the subwoofer for their liking. There are 2 EQ modes, ANECHOIC ROOM EQ and ROOM GAIN EQ, to cater for different room environment. A plug is also supplied for sealing the slot shipped bass reflex tube if further adjustment is needed. It is highly recommended to try all the different combination of configurations to look for the best setting for your home theater.
I really like the look of SUB 1×12, especially the pressed XTZ logo in the middle of the woofer. It makes the look of SUB 1×12 fierce, but yet professional. In order to reveal the true nature and power of SUB 1×12, I connected SUB 1×12 to my Yamaha CX-A5100 and used Enrique Igiesias MV in DOLBY ATMOS Demo Blruay Disc to tune for the best setting for SUB 1×12. I also tried to compare the 2 EQ modes, and found ANECHOIC ROOM EQ to suit my taste for bass better.
Enrique Igiesias
It is still hard to correlate the look of SUB 1×12 with a musical woofer. Bass in the music are tight, but yet very musical.
War of the worlds
The lightning sound in this scene was reproduced with very realistic.
It was only at this scene of earth cracking and building shuttering that the bass level needed to turn up by 3db to feel the shaking of ground as in the scene.
Avatar
This is a perfect scene to demonstrate the dynamic that SUB 1×12 can reproduced.
Mission: Impossible Ghost Protocol
In the scene of sand storms, the SUB 1×12 seems to be at its limit to fill the room with strong low bass from the furious sand storms, but back to normal in the middle of the scene.
MAD MAX
This film is perfect demonstration of how musical sounding of this subwoofer can be.
Conclusion:
After spending 5-6 weeks of time with SUB 1×12, I finally understood the design philosophy that Mr Olle Eliasson was referring to during the interview. It is not the type of subwoofer that only excel in certain type of bass, but an all rounded type of subwoofer. It behaves as naturally as the movie director allows, but yet faithfully reproduced the bass as it should be. There is one point in the testing that SUB 1×12 met its limit, but with good reason. It is difficult to find a subwoofer to fully fill a 200 sqft area with high dynamic low bass at the same price point of SUB 1×12. I am sure that higher price model would have at ease of fulfilling that, but that would be another story to tell. If you are in the market for a natural cinema sounding subwoofer, but also be able to tune for your personal taste/preference in bass, you should definitely give XTZ Cinema SUB 1×12 a try.